Case Study – KPIs for the e-commerce industry

KPKPIs for the e-commerce industry, this article has the top 20 metrics/KPIs that are asked in the e-commerce interviews.

Expect these questions to be asked in companies like Amazon, Swiggy, Licious, Flipkart, Uber, Ola, Myntra, OYO, etc.
P.S. – Comment if you know more metrics/KPIs for the e-commerce industry


KPIs for the e-commerce industry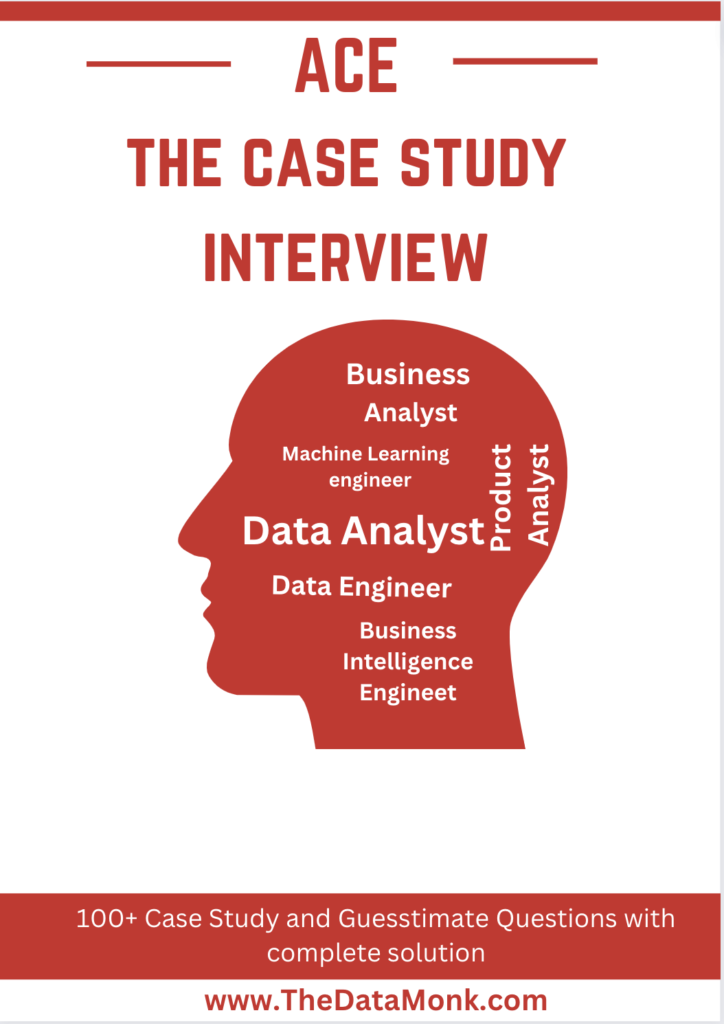 Case Study – Come up with the top 20 metrics that you should show to the Leadership of an e-commerce industry

Approach – Think on the lines of inventory, supply, demand, digital metric,s CSAT score, time to purchase, session times, etc.

To make your life easier we have the following 20 KPIs that you can start with (brownie point – You can use these KPIs for other industries as well)

Website Traffic: Total number of visitors to your website.
Conversion Rate: Percentage of website visitors who make a purchase.
Average Order Value (AOV): The average amount of money customers spend per order.
Cart Abandonment Rate: The percentage of visitors who add items to their cart but don't complete the purchase.
Customer Acquisition Cost (CAC): The cost of acquiring a new customer.
Customer Lifetime Value (CLV): The total amount of money a customer is expected to spend over their lifetime.
Repeat Customer Rate: The percentage of customers who make a repeat purchase.
Net Promoter Score (NPS): A measure of customer loyalty and satisfaction.
Email Open Rate: The percentage of subscribers who open your marketing emails.
Email Click-Through Rate (CTR): The percentage of subscribers who click on links in your marketing emails.
Social Media Engagement: The number of likes, comments, and shares your social media posts receive.
Return on Ad Spend (ROAS): The revenue generated by your advertising campaigns divided by the cost of the campaigns.
Average Revenue per User (ARPU): The average amount of revenue generated per user.
Gross Profit Margin: The percentage of revenue that is profit after deducting the cost of goods sold.
Inventory Turnover: The rate at which you sell and replace inventory.
Fulfillment Time: The time it takes from when an order is placed to when it is shipped.
Shipping Time: The time it takes for a customer to receive their order after it has been shipped.
Customer Satisfaction (CSAT) Score: A measure of customer satisfaction with their purchase experience.
Customer Churn Rate: The percentage of customers who stop doing business with your company.
Abandoned Cart Recovery Rate: The percentage of abandoned carts that are recovered through follow-up email campaigns or other means.
Now we are also available on our website where you can directly download the PDF of the topic you are interested in. On Amazon, each book costs ~299, on our website we have put it at a 60-80% discount. There are ~4000 solved interview questions prepared for you.
10 e-book bundle with 1400 interview questions spread across SQL, Python, Statistics, Case Studies, and Machine Learning Algorithms – Ideal for 0-3 years experienced candidates
23 E-book with ~2000 interview questions spread across AWS, SQL, Python, 10+ ML algorithms, MS Excel, and Case Studies – Complete Package for someone between 0 to 8 years of experience (The above 10 e-book bundle has a completely different set of e-books)
12 E-books for 12 Machine Learning algorithms with 1000+ interview questions – For those candidates who want to include any Machine Learning Algorithm in their resume and to learn/revise the important concepts. These 12 e-books are a part of the 23 e-book package
Individual 50+ e-books on separate topics
Important Resources to crack interviews (Mostly Free)
There are a few things that might be very useful for your preparation
The Data Monk Youtube channel – Here you will get only those videos that are asked in interviews with Data Analysts, Data Scientists, Machine Learning Engineers, Business Intelligence Engineers, Analytics managers, etc.
Go through the watchlist which makes you uncomfortable:-
Complete Python Playlist for Data Science
Company-wise Data Science Interview Questions – Must Watch
All important Machine Learning Algorithm with code in Python
Complete Python Numpy Playlist
Complete Python Pandas Playlist
Case Study and Guesstimates Complete Playlist
Complete Playlist of Statistics
Keep Learning !!