Buy The Data Monk e-book online

Buy The Data Monk e-book
This place is dedicated to guiding you through all the e-books that we have, which book is for whom and how to purchase these books, and how to read these e-books
Buy The Data Monk e-book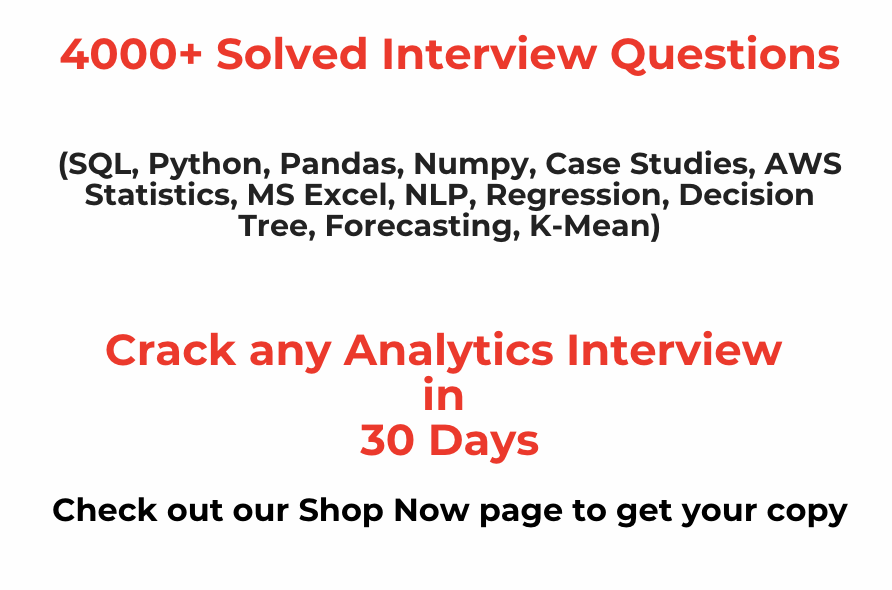 Why choose The Data Monk e-books?
There are multiple reasons because of which we have focused only on writing e-books. We will talk about each below, if you feel like you connect with our thought then the books are for you, if not then we will provide you with other ways to do the same. The ultimate aim is to make sure that you make a switch and become better analytics professional.
If we will feel that a particular website like Analytics Vidhya, Kaggle, Tutorialspoint, etc. is useful then we will also suggest the same for you. We will try to provide you the best resources that can give you great results.

Why The Data Monk e-books?

If you look in the title of our books, you will observe that our title is more or less like 100 questions on SQL, Python, Numpy, Regression, etc. But why?

1. We firmly believe that if one has to complete a topic to be interview ready then he has to cover at least 100 questions on that topic. None of the interviewers will know more than 100 questions from a topic. You pick up Linear Regression, just break this topic in 100 parts like p-value, correlation, assumptions, multicollinearity, collinearity, rmse, and things like that. Once you reach 50 questions, you will start feeling that you are getting good in regression. After another 30 questions, you will feel like you know everything. After the last 20 questions and one complete revision you will be so good in regression that you can nail 7 out of every 10 interviews.

2. When we have our semester exams then we focus less on the theory and more on the previous year's questions because those are the most important questions. You can take our books on the same line

3. It keeps you on track, if I write a 100-page book then you might start reading a few pages and then get lost in some topic. But, if you have a target to cover 100 questions, you will always keep things on track. 20 questions per day will help you complete a topic every week. You can add one extra point in your resume every week

4. Our main aim is not to make you an expert in any tool or technology because we can't, in fact no one can. You can only become an expert while doing real projects in your organization. No upskill company can help you with your real-life simulation project. Our core team takes more than 100 interviews per week for our respective organization and within 10 minutes we can tell if the candidate has done a real-life project or a dummy project. These projects are slow and bring less value on the table. Basically your ROI is bad on the time you invest on these projects. Better take a job quickly and learn these on the real floor.

5. We have covered a lot of topics and our aim was to complete the whole paradigm of analytics. We want to create materials at such a price that is super affordable to everyone. No one in the upskilling industry is even remotely close to the value that we add on our price.

6. Our books are very much appreciated and are super easy to learn

7. We are old school, we feel a book is always better when it's exam time. If you have written XGBoost in your resume, then just pick our book and revise all the things in one place. Easiest way to keep yourself updated

There are many more points, but you must have got the gist of why e-books !!
How and where can we get The Data Monk e-books?
This is a place where we will clear out a lot of things.

1. Our e-books are available on Amazon across 12 geographies. Just search The Data Monk (we will provide link of each book below)

2. You do not need a kindle device to read the books on Amazon. You can buy it directly, it will be stored in your account and you can read it from your laptop or mobile. This is the major confusion that costs us at least 20% of our revenue 😛

3. Our selling price at Amazon is around $3 or Rs. 220 per book. We have also listed all of these books on our e-shop page . And it is way way cheaper over our website plus you get to keep the PDF with yourself. There are also a lot of free e-books available there that we giveaway every week, do not miss to check it out.

4. We want to create our own e-space that's why we are slowly trying to move away from Amazon

5. E-books can be bought directly from the website and can be paid using any online transaction method
What is The Data Monk's best seller?
When we talk about bestsellers, these are the books that are appreciated the most and sold the most. Later we realized that we can make it easier for our users by combining books in a bundle. So we have created 3 bundles, for now, these are undoubtedly our bestsellers and once you go through the topics that are covered then you will realize that these bundles should be in your bucket list to complete it before appearing for an interview

SET A – – Ideal for a college 3rd or 4th-year student and 0-3 years experienced candidates
10 e-book bundle with 1400 interview questions spread across SQL, Python, Statistics, Case Studies, and Machine Learning Algorithms

SET B – For those candidates who want to include any Machine Learning Algorithm in their resume and to learn/revise the important concepts. 12 E-books for 12 Machine Learning algorithms with 1000+ interview questions
SET C – Complete Package for someone between 0 to 8 years of experience (The above 10 e-book bundle has a completely different set of e-books)
23 E-book with ~2000 interview questions spread across AWS, SQL, Python, 10+ ML algorithms, and Case Studies

SET B is a sub-set of SET C, all the questions present in SET B is there in SET C.
SET A is completely exclusive content and none of these questions are either in SET B or SET C

Basically, you can take Set A and Set C to cover 3400 unique questions
Complete list of e-books – Individual 50+ e-books on separate topics

Buy The Data Monk e-book
What else do we have at The Data Monk?
We have our own small youtube channel – The Data Monk
In this Youtube channel, we only post videos related to interview topics, questions and case studies. Do check it out

We offer:-
1. E-books on Amazon
2. E-books on this website
3. Youtube channel on interview preparation
4. Free seminars on 'How to make a career in Analytics' – A 1 hour long seminar where the candidates get a free e-book on SQL and Python interview questions. We have hosted 100+ seminars in last 3 years in different engineering and MBA colleges. For enquiry, please a mail to [email protected] or Whatsapp at 9798049301

5. Mock interviews – We take mock interviews of candidates who want to face interview-type questions. Following are the three plans:

– 1 Mock interview – Rs. 750
– 2 Mock interview – Rs. 1000 (there should be a difference of at least 7 days between two interviews)
– 4 Mock interview – Rs. 1800

Each mock interview is for 40-45 minutes and is followed by detailed feedback for 15 minutes. Candidates can use this time to ask questions or clear their doubts.For enquiry, please a mail to [email protected] or Whatsapp at 9798049301

6. Career Counselling – If you are unsure about making a career in analytics,salary, tools, etc. then please comment below and your queries will be answered in no time.
Thanks for all your support !!

The Data Monk